Customized 20/40FT Expandable Prefab Prefabricated Modular Living Portable Container House Office Container

Lida is a professional manufacturer of office containers, modular house, container house, prefab house in China.


CONTACT US:

Lida Group Tel: 0086-532-88966982
0086-532-88965892
Website: www.lidajituan.com
Email: sales@lidajituan.com
Head Office: 5th Floor,Building A,Darron Center,No.180,Haier Road,Qingdao, 266000,China
Messages
Lida Group office container building sets are specially designed to be used as a temporary administrative work area for staff, regardless of construction site conditions. Our prefabricated container house can be dismantled in sets.
Office containers can be customized and dimensioned to include the following options: air conditioning, furniture, computer network, telephone, home automation, guard (guardrail), floor, and Prefab.
Office containers (construction site office) are delivered as a set disassembled. 10 prefabricated offices, with one door and two windows, are shipped with only one 40-foot sea container. Our office containers can be joined (assembled or stacked) to form prefabricated modular buildings.
It can be customized according to the detailed requests of customers.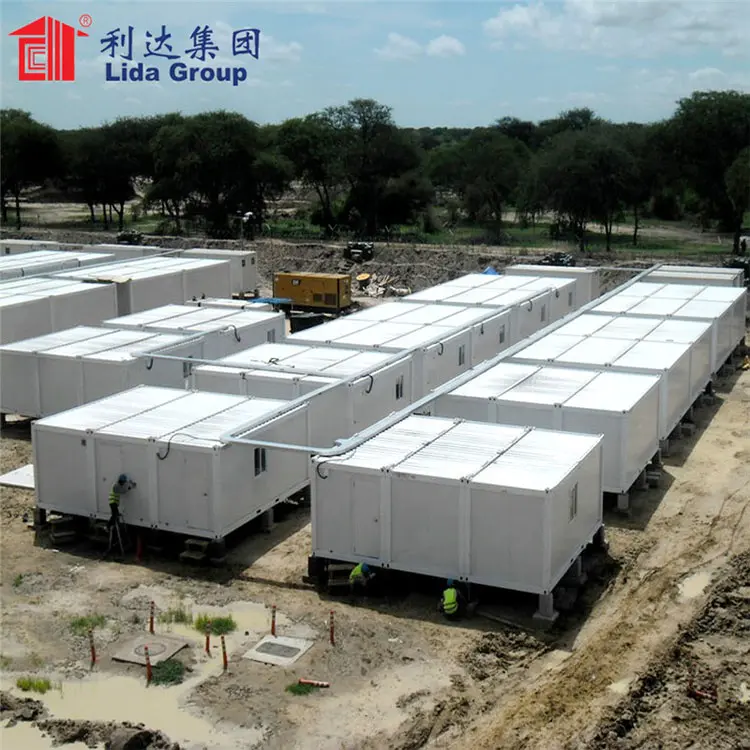 Model: LD-CH-102
MOQ:6 sets
Payment:L/C, T/T
Place of Origin: Shandong,China
Brand:Lida
Delivery Time:25-30days
For project information of Lida Group, please click here.
Structure: Office container with high galvanized and painted steel sandwich panel surface and frame (purlin).
Walls: Office container with sandwich panels on exterior and interior walls and insulated stone wool up to 100 mm thickness, polyurethane or polystyrene foam.
Ceiling and Floor: Polyurethane insulated ceiling (50mm). The base surface is of vinyl-coated fiber cement panel.